The progress of the team projects will be publicised on our webpage and updated regularly. All companies, organisations, and professors who are interested in the interdisciplinary projects are welcome to follow the talent teams' project development and attend the final symposium in June 2020.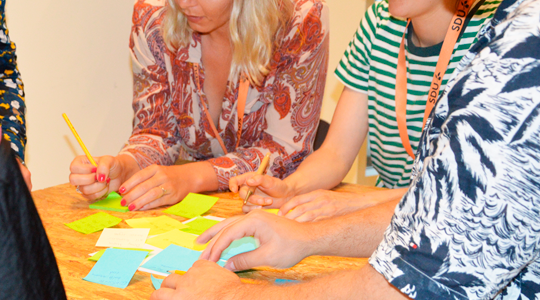 Team project - talent team 1
Teaching Our Children About Death
An interdisciplinary theme week in Danish elementary schools to teach children about topics like death and ageing that engages them in enriching learning experiences
Our project revolves around the important question of how we talk to our children about death and about the ageing process that we all go through. With the demographic change in Western societies we are expecting an ever greater number of elderly people in the coming decades, making it even more important that children are well prepared for life and all that it offers. Simultaneously we are facing a problem with the topic of death, which many people still see as a taboo. We are seldom prepared for it when it comes to our doorstep and we have to say goodbye to a loved one.
Therefore, in order to bring these topics closer to children and prepare them for life, we want to implement a theme week about death and ageing in Danish elementary that takes an interdisciplinary approach. By including all the different school suspects and using non-standard teaching methods (e.g. open discussions, flipped classrooms, role play, physical learning activities, etc.) we aspire to (a) talk about very difficult topics with, (b) inspire empathy by showing and letting them experience different viewpoints to help them understand life from somebody else's position, and (c) to edify them as human beings through the process of cooperative humanistic learning so that they can use the skills they learn during the project (like innovative thought, socratic thinking, empathy, etc.) throughout their life.
Currently, we are working on prototypes for different grades in order to get feedback from different stakeholders on our model and improve it so that in the end it would be possible for a Danish Folkeskole to use our week program in one of their three theme week slots throughout and help better prepare the children for life and for the hardships they might face.