Congratulations on SDU's first team of sustainability agents!
On 28 June to 2 July 2021, the very first SDU sustainability academy was held. After five days with workshops, lectures and project cooperation 28 committed and curious students were appointed to SDU's first team of sustainability agents.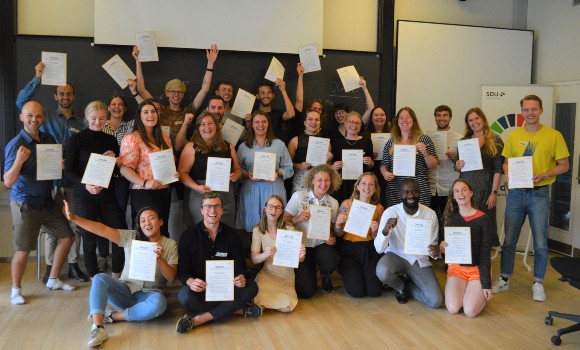 There was a great interest in participation in the academy. Motivation, interests and educational backgrounds were emphasised in the selection of the participants in order to create a diverse group of participants, who could inspire each other across educations, faculties, classes and campuses. Therefore, the sustainability agents represent a wide range of SDU's students.
At the academy the participants strengthened their competences to:
· Initiate sustainable projects
· Create positive changes together with others
· Make an impact with messages about sustainable questions in writing and verbally
· Influence politicians and the industry to act sustainably
· Create networks with other students with an interest in sustainability
These skills were trained through workshops held by organisations like "Tuborg Fondet", "Verdens Bedste Nyheder", "Sager der Samler", "Center for Væredygtighed" and "Roskilde Festival", inspiring personalities like Gerd May and Roxana Kia, lectures from some of SDU's own researchers and the companies Odense Renovation (waste disposal company) and Fyens Stiftstidende (newspaper) that also hosted the academy for two days.
Sustainable project development and communication
The participants worked in teams to develop ideas for sustainable projects that can be launched at SDU. The projects reflected the diversity of the students' interests from initiatives such as green roofs at SDU, a recycling society with focus on upcycling and craftsmanship to an association that can introduce the students to alternative types of sports and thereby contribute to physical activities and psychosocial health. The participants can proceed with these projects and receive sparring about them in the autumn. During the week, the participants were coached in how to use their body when they are orally presenting a case, they are passionate about. They also acquired competences in constructive, written participation in debates about sustainability through features and debate input. You can see a video with extracts from the five days of the academy, that was driven by interesting workshop holders and not least students filled with drive, curiosity and good mood.
We can see the full program 2021 of the academy to the right of this page.
Sustainability network
The participants' cooperation and competence development as sustainability agents do far from end here! A crucial element of the academy was to create networks across SDU's students. Therefore, the participants get the opportunity to become part of a common sustainability network, that will hold a minimum of four official network meetings during the next year. The network must maintain the contact between the students so that they can develop sustainable projects together, share knowledge and expand each other's sustainable toolbox. Furthermore, the students will be trained and acquire experience from company visits, that will prepare them even better to contribute to the sustainable transition.
Sustainability academy 2022
The sustainability academy was a great success and will therefore be held again next year. The format and contents will be adjusted in accordance with our experience from the academy 2021. You can follow this page and the event calendar, if you want to know, what the academy is going to be like next year, when it will take place and how you can participate.