You can already log in to the system via https://sdu.itslearning.dk
From around 15 January, you will be able to find all subjects starting on 1 February in itslearning.
What about exams?
All exams conducted in connection with the autumn semester (winter exams in January) are conducted in the Digital Exam (DE) system. Subjects and academic material for the 2020 autumn semester are still available in Blackboard.
Missing a course?
If you can't find your courses on itslearning, please contact Educational Law & Registration via spoc.sdu.dk.
What about my old material?
It is your responsibility to download academic material currently available in Blackboard if you wish to continue to use it after 1 February. This must be done before 31 August 2021.
---
How to find your course material:
---
How to get messages and communication about your teaching:
---
How to get started?
This guide inclueds help to:
Download Itslearning App
Find your courses
Find your course material
Troubleshooting
Read guide here.
If your inquiry regards illness or other non-course-related issues you have to use SPOC (apply for exemption, credit etc.).
Messages sent from itslearnings messaging system cannot as a rule be deleted. Messages to your teacher which includes personal sensitive information must be sent via e-mail.
This guide shows you how to communicate with your teacher and fellow students in itslearning:
1. Via the messaging system
2. Via comments on announcements
3. And adhere to a good netiquette
Read guide here.
Everyone can create Projects in itslearning and invite participants. You can communicate and collaborate in Projects and share files with each other. You can also create events which will appear in your itslearning calendar. You cannot create learning activities such as tasks or tests in Projects.

Projects are not visible in the itslearning smartphone app.

Here is a brief overview of:
Creating Projects
Inviting participants
Accepting the invitation
Roles
Read guide here.
Here is a brief overview of:
How to download a topic as pdf-file
How to download a plan as pdf-file
How to download a file
Read guide here.
You will find your schedule under the tab 'Calendar' in itslearning - you can also see your schedule via the itslearning-app.
If you have courses in both blackboard and itslearning in the spring of 2021 you can see your full schedule at
https://mitsdu.sdu.dk/skema/
If you have been used to accessing your student email via BlackBoard, you may not have discovered that there is a login icon at the top of mitsdu.dk, which gives you access to webmail and other self-service options for you as a student.
Attendance registration is part of some courses. Attendance registration may for instance be a part of an exam or constitute an exam. Your teacher can ask you to register your attendance via itslearning.
This guide includes information about:
How to register your attendance on your computer
How to register your attendance via the itslearning app
How to get an overview of your attendance in a specific course
See guide here.
This tutorial covers where and how to answer assignments in Itslearning as a student.
Read the guide here.
Discussion forums are used for several different purposes in a course. Among other things, it gives the student the opportunity to reflect on a topic, join discussions with other students, ask the teacher questions etc.
As a student, you have the opportunity to view and participate in discussions in the itslearning app.
Here is a brief overview of how to:
Join discussion forums in your course room
Create discussion forums in a project room
As a student, you do not have to do actively archive or delete your courses (subjects, modules). Your access to the courses ends 4 years after the creation of the course or three months after you have left the study programme. 
However, after you complete a course, you can select the Home tab and unstar the relevant course card. Consequences:
That the course will no longer appear in the pop-up window under the Course menu item
That you no longer receive notifications from the course (e.g. Announcements, deadlines for assignments)
That you no longer can access Updates about the course from the homepage
Follow steps 1 through 3 below to unstar a course card: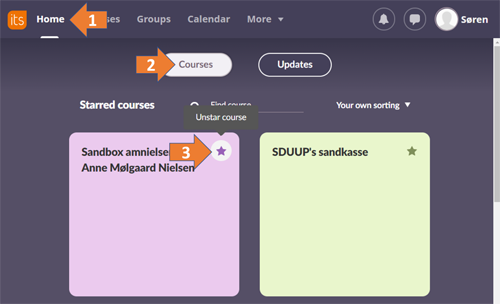 Are you still having technical issues, or are you experiencing technical errors in itslearning?
Please contact servicedesk@sdu.dk / 6550 2990
Do you have questions about the content of your courses?
Please contact your teacher.
Can you not see your courses etc.?
Contact Educational Law & Registration via spoc.sdu.dk.