Competences may be divided into three types: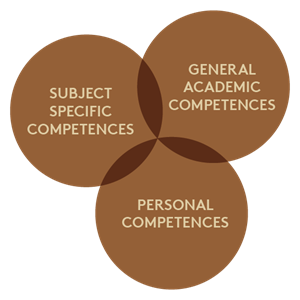 It is important that you reflect on the process you go through while acquiring knowledge and competences – both on and off campus.
Employers are highly interested in hearing, how you work with a concrete task and how you solve the challenges you encounter in your life.
The employer is hiring you, not your diploma!
Therefore, it is very important that you are able to describe how you approach problem solving.
Test your competences in practice
The best way of getting an understanding of how to apply your knowledge on the job market is to test it during your course of study.
You may e.g. do it by doing an internship/work placement (project-oriented course), voluntary jobs, project or study jobs. This is the way you start networking.
Do you need guidance?
If you need help in describing your competences, you are welcome to contact SDU RIO.