MakerSpace is located in Videnbyen in Odense. Here students from SDU have the possibility of exploring their creative minds and create innovative prototypes.
Facilities
We have a workspace with different tools that gives you the opportunity to create prototypes and explore new materials, methods and machines. Our computers are equipped with 3D drawing programs and graphic programs such as Adobe Illustrator, Photoshop and Indesign. We have sewing machines, thread and needle for sewing activities. All the tools are free to use in MakerSpace.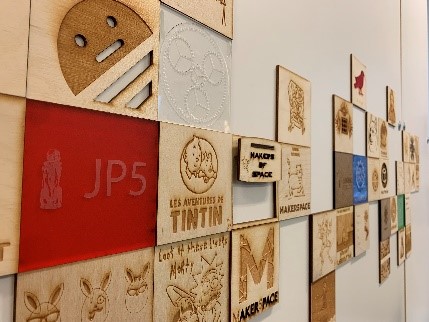 In our machine rooms, we have 5 3D printers (Ultimakers 2+, 3, S3 and S5) and a laser cutter, which can laser cut and engrave wood, cardboard, and acrylics. Likewise, we have a vacuum former (Mayku Formbox), where you, for instance, can create molds and packaging. Last but not least we have an electrician corner, where, amongst other things, you can solder.
In the graphical room, you can print big posters on our plotter. You can also use our vinyl cutter for making wall stickers or vinyl cutouts for textiles. Using Silhouette Cameo, you can also cut thin materials such as paper, textiles, cardboard, leather or thin metal foil. Also, you will find a laminating machine, big paper cutter, cutting mat and knifes.
Last but not least we have a photo studio, where you can take pictures of products and persons.
How do I get access?
Most importantly you must be a student at SDU or be a part of a startup in SDU Entrepreneurship Labs. If so, you can get access to all our facilities as soon as you have been through our workshop courses. You get access through your student card, which we will make sure to recode as soon as you have passed the course.
We have two courses: "3D-print and 3D-scanning" and "Laser- and vinyl cutting". The courses are free of charge and provided most weeks. Please find the dates here.
When you have access to MakerSpace and want to use the machines, you need to book it through our booking system. Please see the posters at each machine for more information.