This guide is targeted SDU students.
Employees can install Endnote via the Software Center by following this guide.
Close all Office programs: Word, Excel, Power Point, Outlook, etc.
If you are new to EndNote, go to step 3.
****************************************************************************
If you have an earlier version of EndNote (X7or X8), this must be removed first. Note that previous preferences such as settings for Find Full Text, Journal Term lists, personal modified styles, etc. will be lost, and must be configured again. Please follow from step 2.
*****************************************************************************
Remove the obsolete EndNote version from Control Panel /Remove program .

If you have created a library to the earlier version, this will not be affected.

Open Blackboard / myLEARN / Software


4. Scroll down to Endnote, find the Windows version and download:


5. Open the downloaded zip-file (here in the Chrome-browser):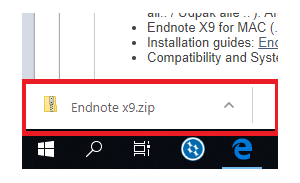 6. Unzip the file by right clicking on the zip-file and choose Unzip all. (Otherwise the program will need the licens and you will be offered a 30-days trial). If you meet this 30 days trial period, you must uninstall EndNote again, find the zip-file under Downloads and unzip again.


7. Click Unzip.

8. Double-click the file Endnote x9.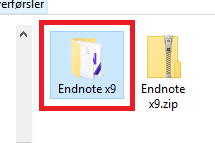 9. Click ENXInst.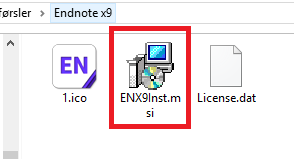 10. Follow the Endnote X9 Wizard: Click Next, Accept, Next, accept "licence agreement", choose "Typical" by Installation type. If you still have Office programs open, you will be told to close them, in order to complete the installation.
Now you can see EndNote in your programs. Open the EndNote program and run any updates.

11. When EndNote opens you will also see this box offering you to set up an EndNote account. Do this to create a synchronized cloudbased backup library on MyEndNoteWeb.com.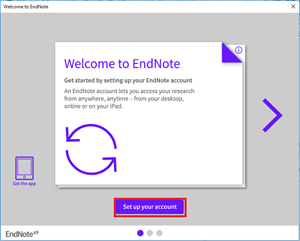 12. If you are new to EndNote, you will see a grey screen without content. This is correct. You create your Endnote Library by pressing the tab File/New. Choose a personal name for your library and save it locally on your computer's hard disk. EndNote will automatically create a "Data-folder" with the same name as your EndNote library. The Data-folder will be placed the same place as your library.

NOTE!
Create only one EndNote library and save it locally on your machine. Don't save the library in shared services like Dropbox, iCloud, OneDrive, etc. as it will corrupt over time.
Give the library name and the data folder name a personal name, eg. yourname.enl and yourname.data.
The two files (library+folder) work as a pair and should always be placed in the same folder (but don't put the library in the Data-folder).
Decide where you will place your library and data-folder and leave it there.
13. You can now open your library from the folder, where it is placed - or via the program.

14. Open Word and check that you have a new Endnote tab. If you don't see the Endnote tab, you can try the following:
Close Word
Open the program folder under "This pc / Windows (C:) / Program Files /Endnote
Run "Configure Endnote.exe"
Choose "Configure Endnote components"
Choose "Cite while you write add-in"
The Endnote tab should now be visible in Word. If not you should contact IT-service.
Now you're ready to use EndNote; download or make references in your library and use them in you assignments or written works. You can also sign up for one of our Endnote courses. Remember to pay attention to the course language.